RDCMan (Remote Desktop Connection Manager) manages multiple remote desktop connections. It is a very popular tool to organize servers into groups. RDCMan can run on Windows 10, Windows Server 2012, and higher OS versions.
Using the RDCMan 2.90 version, you can manage and categorize your servers into named groups. Using the group, you can connect to disconnect to all servers in the specific group with a single command.
You can view the servers in the group as a set of thumbnails, it shows the live actions in each session. Servers in the group can inherit logon settings from the parent group.
In the below image, Logon Credentials for the server ENGG-PRO inherit from the parent group.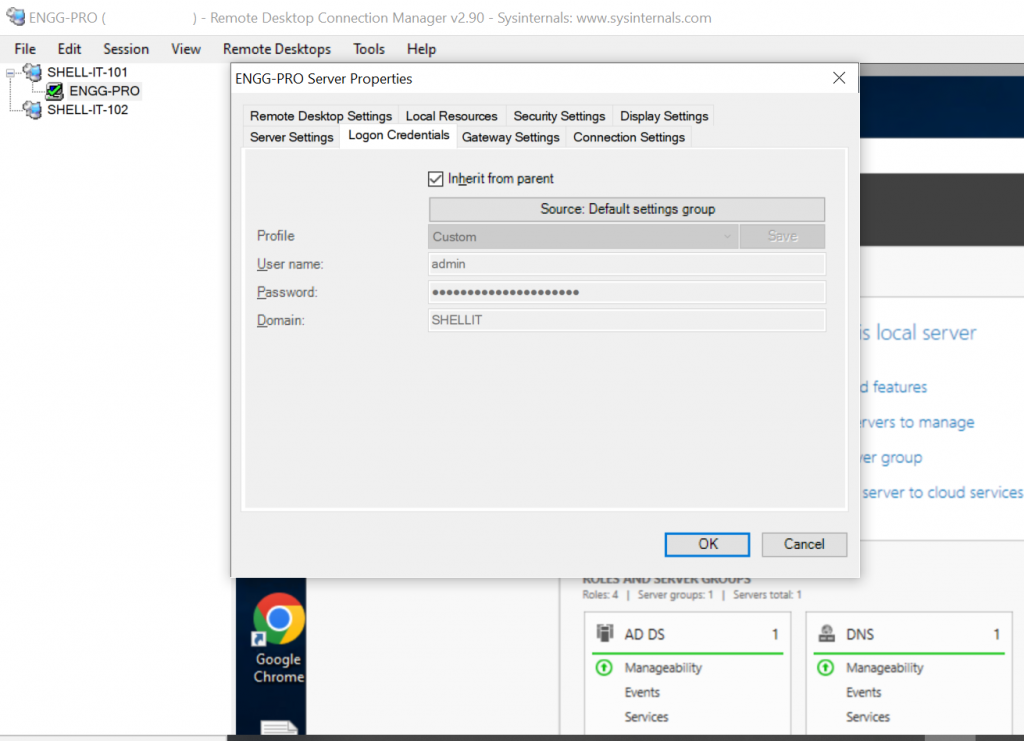 In this article, we will discuss how to download RDCMan and run RDCMan on windows 10 or Windows servers.
RDCMan Download
You can download RDCMan (Remote Desktop Connection Manager) tool from the Microsoft official website. Click on RDCMan Download to download the tool.
The RDCMan tool will be downloaded as RDCMan.zip file. You can extract the file. The RDCMan folder contains RDCMan.exe and Eula.txt files.
RDCMan on windows 10 or other Windows operating systems doesn't require installation. You can double-click on RDCMan.exe to open the Remote Desktop Manager tool GUI interface.
You can run RDCMan on Windows 10 operating system, Windows 8.1 as well as on Windows 2012 or higher server systems.
If you are having Windows OS prior to Windows7 or Windows Vista, you will need to get version 6 of the terminal services client.
RDCMan Display
The Remote Desktop Connection Manager (RDCMan) tool has a very simple GUI interface.
Its display consists of the menu for
File – Create a new RDCMan file group, save or close RDG
Edit – Add, remove server, group, edit server/group properties
Session – Connect, Disconnect, Log off Sessions, list sessions, Full Screen
View – Sort groups/servers, adjust the size of the client area
Remote Desktops – Allows access to groups and servers
Tools – Provide options for Hotkeys, client area size, thumbnail unit size, etc…
Help – Information about RDCMan
Tip: Best Remote Desktop Connection Manager Tools!
Conclusion
RDCMan tool is a very good tool with a simple GUI interface to manage your servers in groups and connect or disconnect quickly with a single command.
You can use the logon credentials of the parent group, which means if there is a change in login credentials, it should be updated at the parent group only. Servers in the groups inherit the parent group logon details.
You can find more topics about Active Directory tools and PowerShell basics on the ActiveDirectoryTools home page.